This fall favorite chili recipe is anything but traditional, it contains no beans, is veggie-heavy, paleo and Whole30-friendly. It's a savory and spicy mix with delightful sweetness added by a key ingredient, sweet potatoes. This is a great meal to make ahead of time and keep in the fridge for when you're hungry and need to heat something up quick, it would also classify as healthy comfort food. So let's dive right in.
You'll want to start by doing all of the cubing, mincing, and chopping prep: 3 stalks of celery, 2 zucchini, 1 medium white onion, 1 bell pepper, 1 large sweet potato (peel optional), and 3 cloves of garlic.
Put the chili pot on the stove and turn the heat to medium. Add 2 tablespoons of olive oil and turn the pot to coat the bottom. Add 1 lb ground turkey and stir occasionally until it has begun to brown, but it is not fully cooked. Take the turkey from the pot with a slotted spoon and put to the side. Leave just the remaining liquid in the bottom of the chili pot.
To the liquid in the pot, add the onion, bell pepper, and celery. Sprinkle with salt and cook, stirring frequently, until the onion starts to turn clear. Add in the rest of the veggies and stir until the garlic starts to give off fragrance. Now add spices: 1½ Tbsp chili powder, 1 tsp paprika, 1 tsp cumin, 1 tsp coriander, 1 tsp garlic powder, 1 tsp onion powder, ½ tsp salt, and a conservative sprinkle of cayenne pepper if you like spicy heat (all spices are always optional and amounts are adjustable to your taste).
Stir to evenly coat all of the veggies in the spices before adding a 14 oz can of diced tomatoes, a 14 oz can of tomato sauce, 14 oz of chicken broth (hot tip: use the tomato sauce can to measure broth), 2 Tbsp coconut aminos (for a hint of umami-sweetness) and 2 bay leaves (again, spices are optional). Stir well and wait until the chili comes to a boil before turning down to low and covering the pot. It will look like a lot of liquid now, but the tomato sauce will thicken as it cooks.
Let the chili simmer until sweet potato cubes have softened (about 20 minutes) before adding the ground turkey back in. Let the turkey cook fully and absorb the flavors before serving; the longer the simmer the better the flavor! Aim for another 20 minutes and try to remember to pull out the bay leaves before plating.
Ingredients: (if possible, use organic, fresh and free range)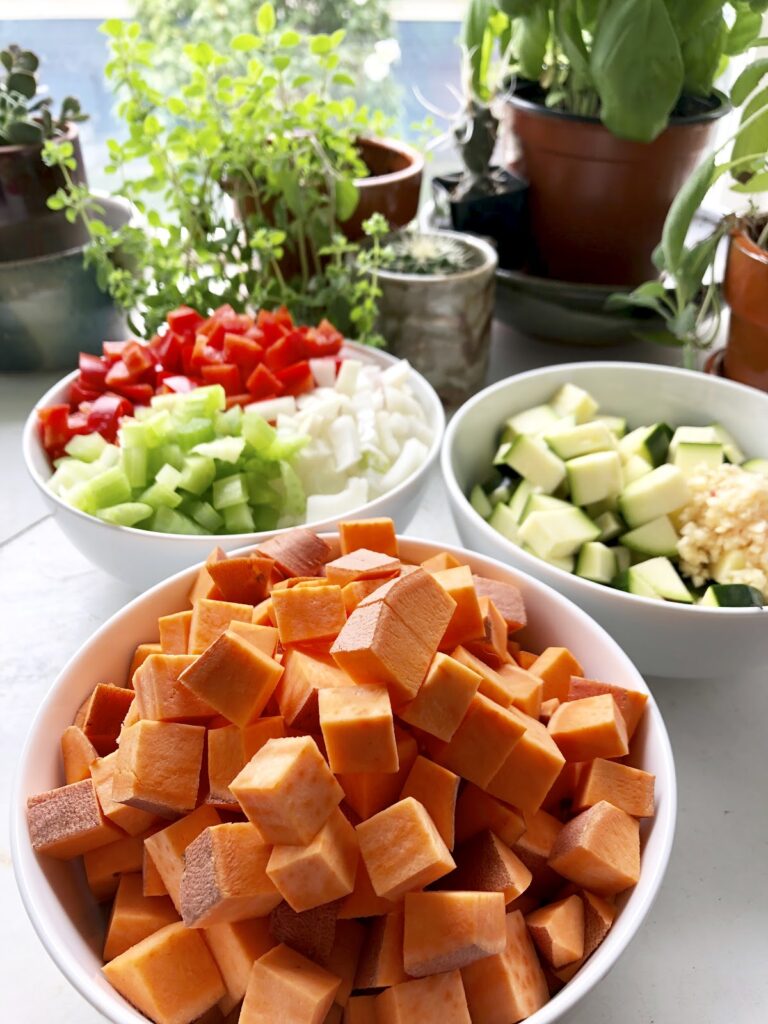 1 lb ground turkey (Organic, free range if possible)
Olive oil
1 large sweet potato (cubed)
1 medium white or yellow onion (chopped)
1 large bell peppers (any color; chopped)
2 zucchini (cubed)
3 cloves garlic (minced)
14 oz diced tomatoes
14 oz tomato sauce
14 oz chicken broth
1 ½ Tbsp chili powder
1 tsp paprika
1 tsp cumin
1 tsp coriander
1 tsp garlic powder
1 tsp onion powder
½ tsp salt (more or less according to taste)
2 Tbsp coconut aminos
2 bay leaves
Cayenne pepper to taste
One more thing! We mentioned that this is also a great dish to prepare the night before serving, for a quick heat-and-eat meal. If this is your plan, turn off heat once the turkey has cooked and let the pot cool to room temp before refrigerating.
HAPPY FALL!